Last week, I was honored when a couple of very talented ladies featured some of my projects on their awesome sites.
Why don't you go check out what they've been up to?
On Tuesday
Stephanie at
Under the Table and Dreaming
also featured the
Framed Photo Confetti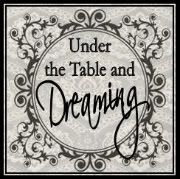 Ashley at
No Apologies
featured
The Blackberry Vine as one of her new favorite blogs...sweet!
You made my week!